Well you should have...it was posted in November! But for those of you who missed my pearls of junk wisdom...here you go.
Now your life is complete. You're welcome.
Meet and Greet with Heather from Lawless Life
This momma is seriously talented and if you are looking for

life, love and faith, you need to check out her blog! Ta

ke it away Heather!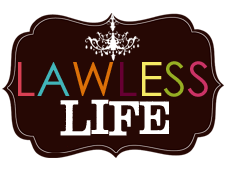 Hey lovies...I am SO happy up in this neck of the woods, doing a guest post for Ash! She is adorable, and I love sponsoring her fab blog!
I thought I would give you some shopping tips. Because I kinda have a BIG little problem with shopping. I am addicted. Like you know that show interevention? They need to come send me to rehab. When I walk into my local maurices or Macy's...everyone knows me by name. Thats completely awesome sad! So in order to keep my hubby happy finances under control, I have some tips for you....just incase you are a serious shopper like me.
When you get the urge to shop....go online. Click and click and click some more. Find your favorite things, the colors that you love, the size that you want and all that. Then put things in your "cart". Then Click the little red X at the top right hand corner of your screen. Close the browser. It sounds weird...but even though I didnt buy anything....it kinda fulfills that shopping desire for me. I leave everything in the cart for at least 2 weeks, and then....when I go back to that site...and I open my "cart" if the item has gone on sale, and if I still really want it then I buy it. But ONLY if it has gone on sale for at LEAST 40% off. If not then I close it again and come back in 2 more weeks. Does this make sense? Probably not because I am a looney....
When I shop in the stores and I find something I love if I feel like I really cant live without it...and I CAN AFFORD it...then I buy it. But when I get home I leave it in the bag and hang it on a hook in my closet. If 2 weeks have gone by and I didnt wear the item...I take it back. (unless it was for an event or something) If I didnt even take it out of the bag or want to wear it enough in two weeks...then I dont need it.
I take 5 things from my closet to the consignment store every 4 weeks. This keeps my hoard of clothes down to a small island .
Those "tips" might seem silly....but they keep me on track, and I dont end up spending my kids college fund on clothes, shoes, handbags....and other crap I dont need.
Hope all you pretty peaches had a wonderful thanksgiving!
Thanks for taking the time to read my insane babble....If you want to read more...head over to

Lawless Life

!